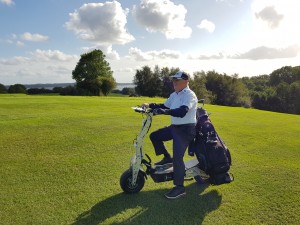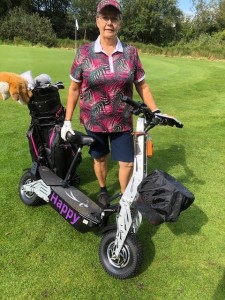 NEW 2022 MODEL MONOBUGGY GOLF SCOOTER :
 Flexible assistance to get around on the golf course                 
 You can accompany your fellow players
 Preserve the social aspect of the game of golf
 NEW: Comes with CoC Certificate so can be reg.for use on public roads   
 Can be transported in most cars
New 48v – 20Ah. high quality Lithium Battery. Smaller and lighter but with more power.
Now with 2 x 1.000Watt Motor (front- and backwheel)  to reduce service and noise by direct drive.
New design for the golf-rack to accept all sizes golf bags. Easy fixing with Velcro-band.
2 x 1.000Watt powerful brushless high-quality motors with selection between one- or two-wheel drive..
Improved electric controller for smooth speed control from 0 – ca. 25 km/hour.
Incl. LED front- and rearlight, brakelight, horn and

side mirrors.

All in one packaging = "Plug and Play" in 5 min.
Total weight only 29kg. ex. rack, battery and seat post.
Compact size: L: 134cm. H: 55cm. W: 46cm.
Improved front- and rear suspension.
Improved service friendly hydraulic brake system.
Retail: Only 2.275,- Euro recommended retail price. (65,- Euro discount if the Customer self-assembly)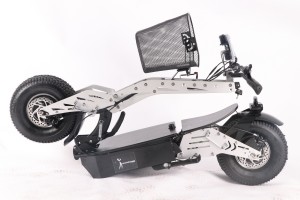 It seems that the general idea to buy golf carts is to assist in further enjoying the game of golf. As technology continues to evolve so too does the way we travel when hitting the white ball. The introduction of electric golf buggies is not something new to golf although it has become very popular. No longer are electric golf carts underpowered and unable to maneuver around the extreme terrain course. The new generation electric golf carts are in many ways far superior in delivering power and comfort to the modern day golfer. Breathe in the fresh air without the smell of fuel following you around, no contributing combustion engine noise to upset the mood. Just clean, quiet running from the new electric golf carts. The monobuggy two wheel electric golf buggy is undoubtedly the most advanced electric golf buggy on the market. 48v, 20AH dry cell Li.Ion. battery technology, 2 x powerful brushless motor, full suspension package with balloon turf tires and power and reliability to take on any challenge that electric golf buggies need to meet. On top of all this, the monobuggy is the only foldable Golf buggy on the market, and can easily be transported between home and golf course for you to be ready for your tee-off in no time. We have documentation for the wheel pressure pr. sq. cm (the pressure is less than a normal Golf car with 2 persons) so no damage to the Fairways.  Load pressure on Fairways 05.2014
Monobuggy is founded and invented by Bjarne Nielsen: LinkedIn. Monobuggy is the first time, to use a two wheel battery driven foldable buggy for transportation on the golf course.  From the very beginning we have had the electrical approach towards transportation on the golf course in mind and we will always work to bring the best quality and environment friendly solutions at affordable prices to the market. At only 32kg. ex. battery, rack and seat-post, the Monobuggy can be transported in your Car.
You will never be in the lead if you follow in others footstep! Be sure always to find new and better approaches, designs and inventions from Monobuggy. We plan to introduce a new revolutionary concept or product on the market each year. The 2022 model will be ready for sale end of March  and offers the new brushless 2 x motor + many new features incl. EU Street approval at only 2275,- Euro retail. Just send your e-mail to sales@monobuggy.com to get more information.
Thanks to everybody who visited our Booth during the resent Made in Denmark Golf Event.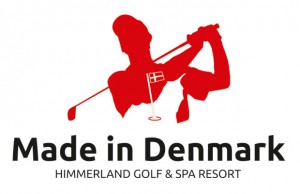 LINK auf Deutsch: NEU 2021 MODEL MONOBUGGY GOLF SCOOTER DE